Contact The Digital Network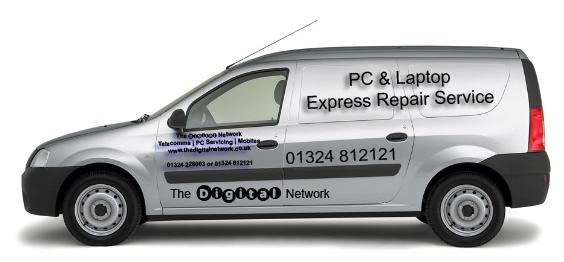 The Digital Network is a UK Online Company whose Head Office is based in Falkirk, Stirlingshire, Central Scotland.
We look forward to meeting our clients, old and new, to chat about our products or services, although we still deal with people predominantly by
email or phone, as this helps keeps our costs down, which we in turn then pass on to you.
Therefore before travelling please contact us first, as often we can sign you up easily over the phone and we will call you back to do this, saving you more money too!

We carry out PC and iPod, iPhone, iTouch and Samsung Mobile Phone repairs onsite, all PC Systems are Built at our Warehouse and delivered direct to you . We also offer a FREE pick up and return service within the local area for all PC Repairs and Custom Built Systems or Upgrades.
Customer service is important to us, therefore calls to our numbers are charged at normal rate (NOT Premium rate), at all times. If we are not available when you call, PLEASE leave us a message, unlike many other companies, we promise to call you right back.
Main Number: 01324 812121
Opening times are: 10.00am - 7.00pm Monday to Friday, 12.00am - 6pm Saturday's
info@thedigitalnetwork.co.uk use for general information on our services and products

sales@thedigitalnetwork.co.uk use to order goods or services
support@thedigitalnetwork.co.uk
use for customer support issues (This email is also routed to engineers for support or installation requests throughout the UK)
To ensure a speedy response please use the correct email address
Mobile: 0790 772 2 772 (Field Engineer)
Normal mobile charges apply (These may differ from Network-to-Network)